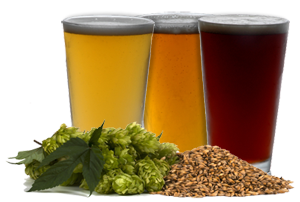 Year Round
Lager
One of Legendís first beers brewed; Legend Lager offers the comfort of easy drinkability while also bringing a depth of flavor. Using only the finest brewing ingredients, this beer yields a pure, bright malt flavor and a medium body. Modest hopping ...
Brown Ale
The Virginia Original. Our most popular beer, Legend Brown Ale is a full bodied version of an American Brown Ale. Expect a rich, malt-forward brew with a beautiful mahogany tone. Generous amounts of specialty malts bring flavors of sweet caram ...
Porter
The English working manís beer. Rich, roasty, and loaded with chocolate and coffee flavors, this sweet black ale is robust and full bodied. This beer is an excellent pair to any meal, especially meat dishes and desserts. A unique brewing practice al ...
Golden IPA
The Beer that Built an Empire. Legend Golden is a big, full-bodied version of the traditional English IPA with the perfect balance between malty sweetness and hop bitterness. Years ago, as an experimental brew, this underdog of a beer found its way i ...
Pilsner
The Taste of Europe. Legend Bohemian-style Pilsner starts with a rich gold color and a firm malt background. A substantial amount of hops yields a dry and crisp finish. This beer exudes a classic European style with American bravado. Expect a smooth ...
Urban Legend Series
Ghost Rider IPA
The construction of the Pocahontas Parkway just outside Richmond, Va placed a toll plaza directly over the site of an ancient American Indian burial ground that dates the civilization back to as far as 3500 B.C. The sound of drums and distant chants, ...
Urban Legend 1
Legend ESP ESB 2017's first installment of our Urban Legend Series is inspired by a famed mystic and medical clairvoyant known as the most documented psychic of the 20th Century. He frequently and repeatedly demonstrated the ability to peer into t ...
Seasonal & Limited
Winter White
Get ready for a winterized version of a classic Belgian Witbier (white beer). Legend Winter White starts with a blend of Belgian malts and wheat in the mash for a rich, sweet body and tangy crispness. Spicy hops blend in the boil with coriander and o ...
Legend Chocolate Porter
Porter by standard description is a rich, sweet, opaque ale. Porter by Legend standards exceed these parameters, for its flavors are sharp and elevated. We generously added dark malts to this brew, including Caramel and Chocolate malts. By blending i ...
Utebier
Warmer weather is drawing near, and Legend Brewing Co. is releasing or Utbier to welcome in the spring season. For this seasonís release, Legend married its enthusiasm for classical beer styles and modernized approach to brewing to create the Legend ...
The Taproom Series
Bourbon Barrel Brown Ale
We've joined forces with a local distiller of fine spirits to bring you a rich and bold experience. We've taken our Legend Brown Ale and allowed it to mature in the oak bourbon barrels of the A. Smith Bowman Distillery for six weeks. A layer of boozy ...
Anniversary Imperial Brown Ale
To celebrate our Anniversary and pay tribute to our Brown Ale, every year we brewed a bolder and robust version of the Legend Brown. The imperial version has an even fuller body, stronger malt flavors, and an added hop character. Seven types of barl ...
Hopfest

Legend Hopfest originated in 2005 as a one-off seasonal beer. Hopfest was brewed to celebrate Legendís eleventh year of brewing craft beer (we called it micro-brew back then)! Expect a deep golden colored beer with a distinct pine/fruit hop characte ...
Legend Belgian Style Tripel
Six months of aging brings a soft smoothness to this sweet, complex ale. Legend Tripel is brewed on a Belgian abbey style yeast strain which imparts flavor combinations such as banana, clove, apple, pear, even bubblegum. This is best served with frie ...